Type in First aid at Work Course into any search engine and a plethora of websites and options will appear.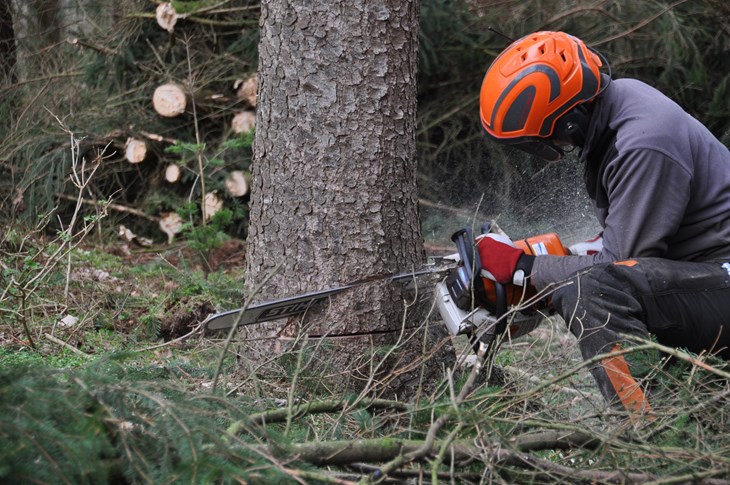 But the question you need to ask is whether that first aid at work course is appropriate for you and your industry. The type of training you need working in a school or office, can be a world away from that you would need in a forestry or agriculture environment.
You need to be looking for the Forestry First Aid +F course. The Forestry First Aid +F course is now an industry standard within the forestry sector as it gives participants comprehensive knowledge applicable to first aid situations that may and do occur in modern forestry and agricultural environments which are so far removed from everyday first aid situations.
Working within a forestry or agricultural environment you can be in remote area with challenging access and limited communication channels. Meaning conventional emergency services may take longer to respond or are unable to access at all meaning assistance is needed from mountain rescue teams or air ambulance lengthen response time to the casualty(s).
The Forestry First Aid +F course takes these varying circumstances into consideration giving you the skills to look after the casualty(s) with possibly life-threatening injuries for longer periods of time. The HSE recognised that individuals in forestry or agricultural environments needed additional first aid skills to handle the situations that could and do occur taking into consideration the possible remote locations, the heavy equipment being used, and work undertaken. Consideration must be given to training on crush injuries, catastrophic bleed injuries from severed arteries or veins where the use of haemostatic clotting agents and tourniquets is needed and in the event of an emergency life threatening situation the use of defibrillators.
In conjunction with the first aid skills taught on the Forestry First Aid +F course time is spent on evacuation planning. Giving the correct location of the casualty when communicating with emergency services. The conveying of descriptions and details of the location as well as the casualty(s) and their injury(s). Emphasis is put on pre planning of working environments such as communication for example with unreliable phone coverage in remote areas other forms of communication need to be considered.
What is carried in the first aid kit is key. An off the shelf first aid kit may not contain the necessary elements to treat major trauma injuries. The type of first aid kit being utilised large bulky first aid kits often get left behind in vehicles which are no sue if you have been trapped beneath a tree or have a broken leg away from your vehicle.
Forestry First Aid +F teaches the practicalities of dealing with first aid in rural and often unforgiving environments. When selecting your First Aid at work course it is key to select the course that is appropriate to you your industry to ensure you are equipped to deal with whatever situations the environments you are working in give you, and that your provider understands the uniqueness these of situations. It may mean the difference between life and death in a serious incident.
Forestry First Aid +F is a short yet informative course providing leaners with the knowledge and practical competencies needed in these rural, unforgiving environments. Leaners must hold or be working towards either a regulated first aid qualification - Emergency First aid at Work or First Aid at Work.
Groundwork North Wales are passionate about providing top quality and cost-effective training. We deliver convenient, accredited, high quality training tailored to your needs delivered at our training centre or at your premises. To find out more about Groundwork North Wales Forestry First Aid +F provision, Emergency First aid at Work, First Aid at Work provision or any of our other training courses please check out the Groundwork Training section of the website, email training@groundworknorthwales.org.uk or call 01978 757 524 .