Saturday night saw Minera Lead Mines host their first Movies @ Minera event which was a sell-out.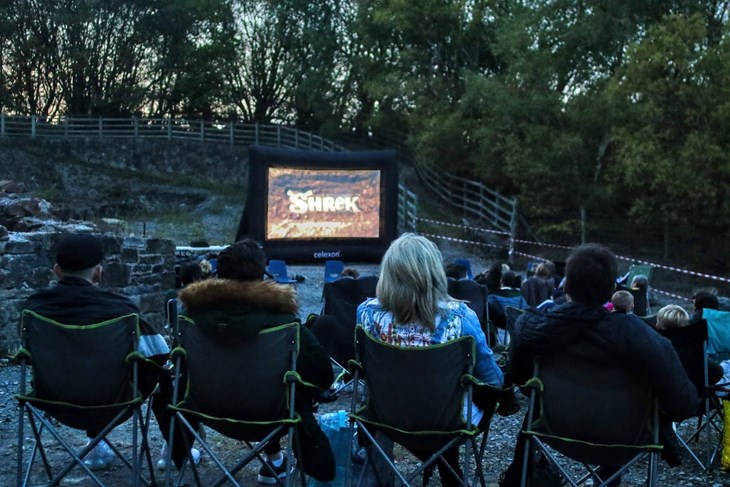 The movie theatre was set up on the remains of the site from the 18th and 19th centuries, with the restored beam engine house, winding engine and boiler houses as a backdrop.
Thanks to the high-pressure weather system that was over the UK on Saturday we had a sunny, dry evening to watch the chosen family friendly movie, Shrek.
The event was made possible by support from the Brymbo Heritage Project who lent the equipment, A. F. Blakemore & Sons who doanted funds from thier community foundation to the cover the set up costs. Natwest Wrexham and the Co-Op Store, Coedpoeth who had spent time volunteering on the site clearing and tidying the car park, and Griffiths Tool Hire in Rhostyllen who donated the use of a generator and lighting for the carpark.
Katie Davies from Minera came to the event with her son, daughter and nieces.
"We thoroughly enjoyed Movies @ Minera. The kids loved it and it was so great having something so local in a wonderful setting"
Natalie Jones came across from Minera with her Husband Craig and children Ella, Kobe and baby Arah.
"The event was so good. We've never done anything like that before and to have it on our doorstep was fantastic"
The Minera Lead Mines site is currently being managed by Groundwork North Wales in partnership with Wrexham County Council thanks to funding from the Heritage Lottery Fund with the aim to keep the site open to the public all year round.
Hanna Clarke, Marketing and Events Manager for Groundwork North Wales,
"It was fantastic to see so many local families enjoying the site in a unique way. Part of the partnership's initiative is to utilise the site as an events space and find ways to make the site sustainable to allow it to be open to the public all year round. Hopefully, Saturday's Movies @ Minera won't be the last one you see".
The Visitors Centre will be open this forth coming weekend (28th & 29th Sept 2019) but will then be closed over the winter period. The site will still be accessible to explore the remains of the lead processing areas from the 18th and 19th centuries, the restored beam engine house, winding engine and boiler houses. There is also a visitor centre that tells the story of the site plus a country park covering 53 acres of grassland, wooded areas and archaeological sites. The site will also be hosting a 'Terrifyingly Spooky Torch Trail' on October 30th at 5pm.
For more details on Minera Lead Mines and how you can get involved with the site or to keep up to date for the next event please visit @VisitMinera on Facebook.