A Terrifyingly Spooky Torch Trail at Minera Lead Mines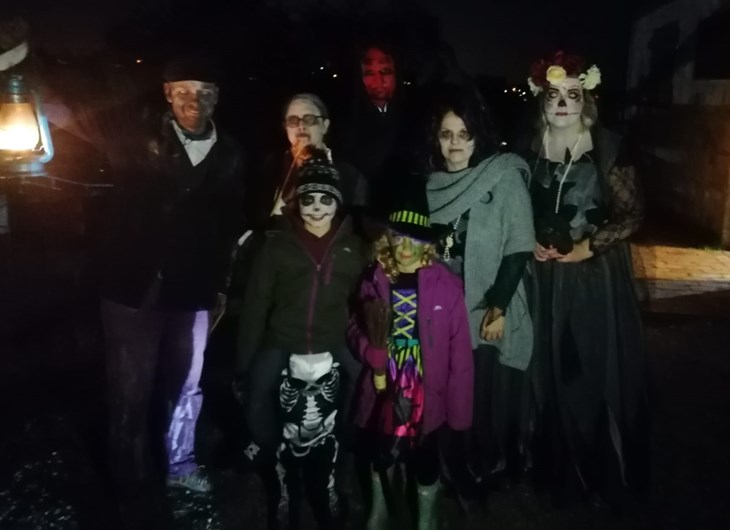 Wednesday 30th October saw Minera Lead Mines host their 'Terrifyingly Spooky Torch Trail' around the Minera Lead Mines site.
After last years sell out event the event was hugely popular once again with the event having been booked up since the middle of October.
The tour was led by the ghost of Enoch Jones, a Miner who died along with four colleagues in a terrible accident at the Mines in February 1901 when the Meadow shaft carrier broke on lowering falling 400 yards to the bottom of the shaft and smashing.
Enoch walked the group of scare seekers around the site detailing stories of the miners who lost their lives and their wives and fiancés who wander the site looking for them.
The scare seekers where welcomed backed to the visitors centre with a campfire, hot chocolate and marshmallows.
Georgina Bennett came along with her partner and children who had a great evening
"We have all had a great evening. The kids love to be scared and this torch trail really fitted the bill"
There where prizes for best fancy dress which went to local girls Annabelle & Olivia Griffiths.
Groundwork North Wales have been looking after the Visitors Centre site in Minera Lead Mines since April 2018 thanks to funding from the National Lottery and have been putting on events and activities at the site to allow everyone to enjoy the site and get involved with the natural heritage of the site.
Hanna Clarke, Events and Marketing Manager for Groundwork North Wales said
"Tonight, was fantastic, a huge thanks goes to everyone who came along for the Halloween fun and of course to the team at Groundwork North Wales for the hard work in getting events like this set up".
"Thanks also goes to Griffiths Tool Hire in Rhostyllen for supporting the event with lighting for the car park".
Groundwork North Wales are keen to hear from anyone who would like to suggest what other types of events and activities they would like to see held at the Minera Lead Mines site. Please visit the website www.groundworknorthwales.org.uk or Facebook page for more information and to keep up to date with activities and events.